Who We Are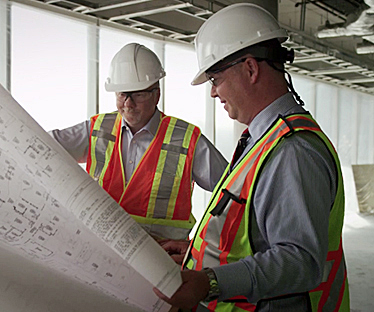 You may not know Build Right Nova Scotia, but you know our work. We're professional unionized tradespeople and contractors building offices, schools, hospitals, libraries, apartments, and other buildings across the province. And together, we're building Nova Scotia better.
Our cooperation ensures the job gets done right, because our combined expertise means every detail is scrutinized to make sure it's up to code. We are 350 contractors and 11,000 unionized tradespeople (including 2700 apprentices), who work together to construct this province right, one building at a time, making sure they are strong and safe.
After all, these are the buildings we all use on a daily basis. These are the buildings we send our kids to, that we go to work in, that we enjoy our lives in. And these buildings are the backbone of Nova Scotia's economy. So they need to last.
Build Right Nova Scotia contractors employ unionized tradespeople and pay nationally competitive wages to keep our talented workers here in good jobs. Our contractors also employ over 2500 administrative, technical and managerial positions in the sector. We can also draw in the best talent from elsewhere when it's needed.
Build Right Nova Scotia trade unions look out for their members, investing in their skills development and training, contributing to health benefits and pension plans, and giving tradespeople the best quality of life. Trade unions cooperate with contractors to make sure the right people with the right skills are on site, from breaking ground to applying the last coat of paint—and there's a trade union for every step between.
Build Right Nova Scotia Directors
| | | |
| --- | --- | --- |
| BRAD SMITH | | Executive Director, Mainland Nova Scotia Building & Construction Trades Council |
| CALUM MACLEOD | | Labour Relations Officer, Nova Scotia Construction Labour Relations Association |
| DARYL BAXENDALE | | Mechanical Manager, Lynk Electric Limited |
| FRANCO CALLEGARI | | Business Manager, Labourers International Union of North America. Local 615 |
| JONATHAN GAUL | | Business Manager, International Union of Painters & Allied Trades District Council 39 Local 1945 |
| KEVIN ASHLEY | | President, Rockingham Electric Limited |
| ROGER PORTER | | Construction Manager, EllisDon Corporation |
| SCOTT KEEPING | | Regional Manager, Atlantic Canada Regional Council of Carpenters, Millwrights & Allied Workers |